Location, mature trees, and so much character. I love Coquina Sands.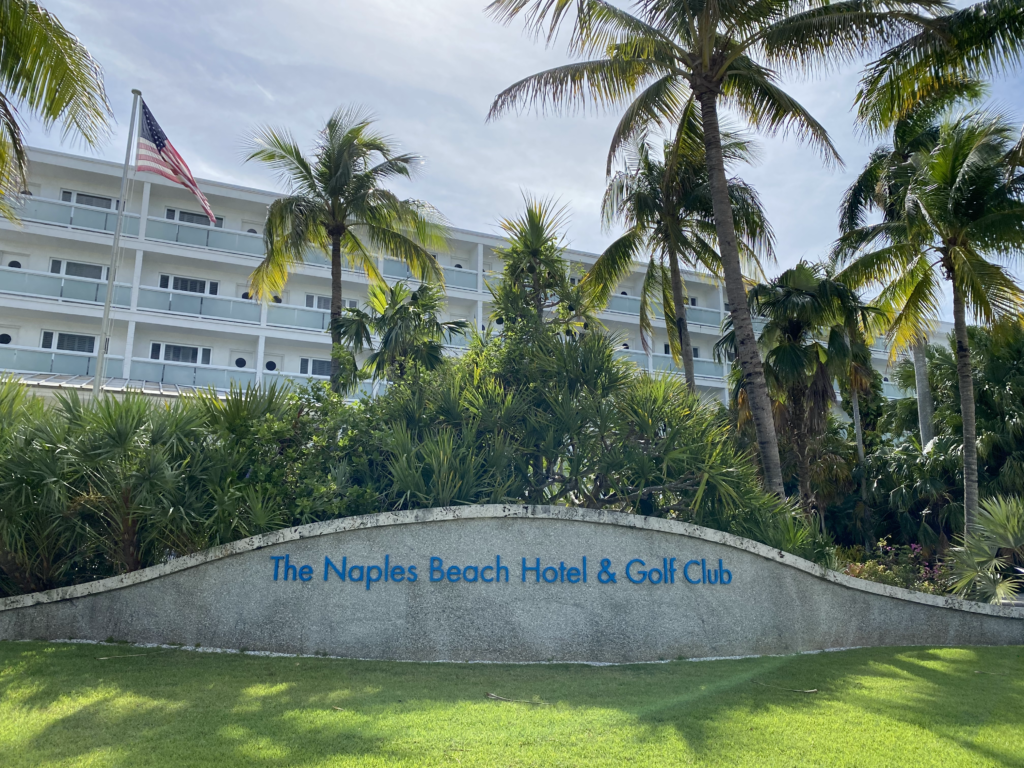 Coquina Sands was the first neighborhood that I visited when my husband introduced me to Naples many years ago. We stayed at the Naples Beach Club and I fell in love with everything about the community. Real estate and design have been my professional passion for many years. I am a beach lover, boater, and seeker of all things sunshine, health, and wellness. Naples in general but especially these coastal communities are just in alignment with everything I love.
Coquina Sands is a coastal community of single-family homes and elegant condo buildings along Gulf Shore Blvd. Coquina Sands has a homeowners association that has a special interest in keeping homeowners informed and engaged in local community interests.
Coquina Sands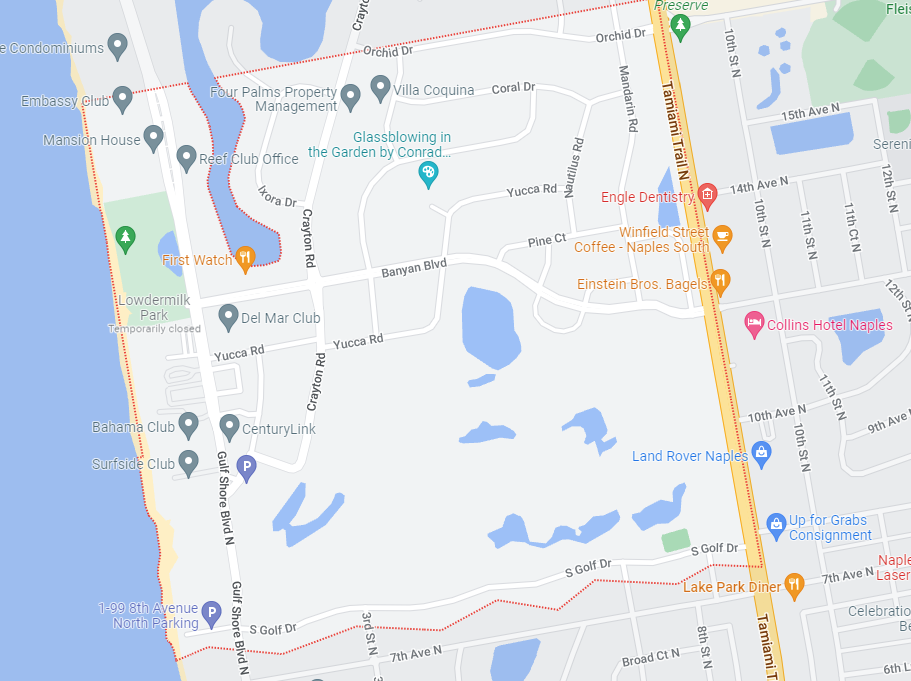 Coquina Sands is composed of a section of Gulf Shore Blvd along the coastline. When the original plot was filed, it was actually the northernmost section of Naples, filed in Lee County in 1887. Then, in the mid 1940s the title to the northern portion of the Town of Naples was passed to the Naples Company. The Naples Company holdings included The Naples Hotel, located on 12th Ave South formed in 1889 (link to the history) and the Naples Golf And Beach Club, established in 1930.

To establish the area, Joslin purchased 200 acres of beachfront property – from the Gulf of Mexico to Tamiami Trail – to build a resort community. His first projects were the construction of an 18-hole championship golf course, a club house and a bathing pavilion. The course opened in 1931, along with the clubhouse. The golf course had come first, replacing the course along Fifth Avenue South that had served the dual purpose of a landing field for the few airplanes that visited Naples. A clubhouse serving both golfers and bathers followed two years later but offered no quarters for lodging.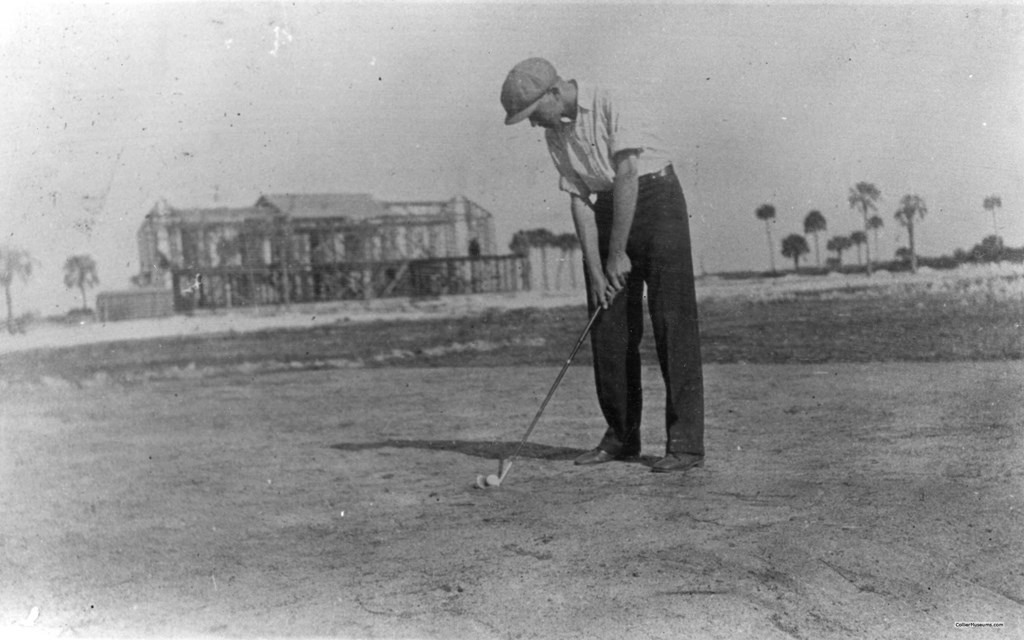 In 1946, the Watkins family purchased it and combined the golf and beach club which was a beach apartment building that was built in June 1948. The apartments remained as the hotel's main wing, and were opened to lodgers a year later, with bar and restaurant services being provided at the Beach Club next door. The apartment complex was the first one allowed on Naples Beach. In the process of approving it, the City Council established a line at Golf drive South where only single-family residences would be allowed on the beach, which set the precedent of future development in the area.
In April of 1954, the plot of unit 1 of Coquina Sands was approved by the City Council. W. Robert Wilson, engineer and surveyor, laid out the development, replacing the original grid plat with a wide gracefully curving boulevard. Coquina Sands, a reference to the tiny mollusks that bury themselves in the sand at the gulf's edge.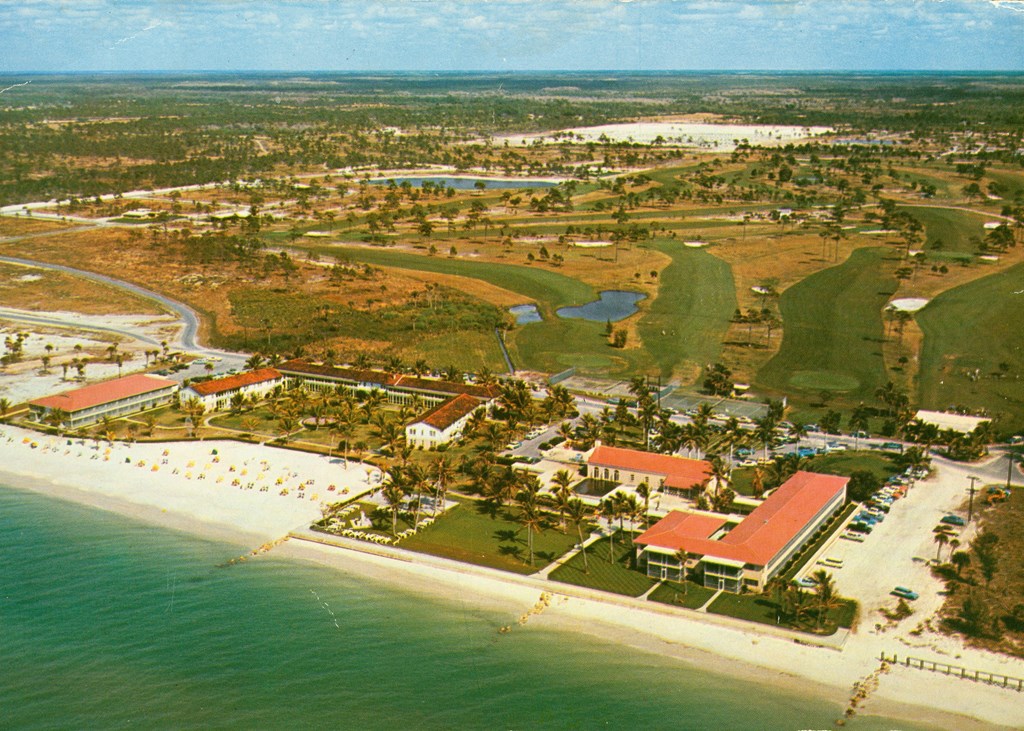 Coquina Sands- a reference to the tiny mollusks that bury themselves in the sand at the edge of the gulf forming a mix of sea shells and shell parts. Streets were named for shells and flowers. The plat of Unit 2 was approved by City Council on October 1, 1957 which included the dredging of the natural tidal bay. In the early 1960's, after the development of The Moorings, several streets in Coquina Sands were renamed. Coquina Boulevard's name was changed to Gulf Shore Boulevard; Jasmine Road became Crayton Road; Hibiscus Road was changed to Murex Drive.
Lowdermilk Park, named for Naples first City manager, Fred Lowdermilk, is the City's only beach front park and was given by the developer, The Naples Company, in lieu of the access points which the original plat had shown on every block (similar to those found south of the subdivision in Olde Naples). Benefactor Lester Norris donated a pavilion for the Park and grills and picnic tables were added. Today, Lowdermilk Park offers beach access overlooking the Gulf of Mexico with casual dining, restrooms, gazebos, volleyball courts, tot lots and free parking for residents with a beach sticker.
Today, Coquina Sands consists of over 200 single family residences from sprawling ranch style homes combined with luxurious new construction as well as over 600 condominium units. Some properties have waterfront and direct gulf access. Charleston Square is a mixed-use development in Coquina Sands. Located on Gulf Shore Blvd N overlooking Hurricane Harbour the community features luxurious condominium residences above office space and local businesses including one of my favorite brunch spots "First Watch" cafe. 
Naples Beach Club
The iconic Naples Beach Club, owned and operated by The Watkins family, was sold in October, 2021 for $362 million, which is public record. The exact price of $362,289,599 was recorded in Collier County. This 125 acre parcel offering over 1,000 feet of white sand beaches is currently being transformed into a Four Seasons which will include private luxury residential units overlooking the gulf and golf course, a Tom Fazio redesigned golf course, a Four Seasons Hotel and full beachside concierge. When I met with the marketing team for the globally renowned luxury visionaries handling the transformation, we were asked not to market the property as many of the residences ranging from approximately $6 to $75 million were being sold exclusively. However, if you would like more information on this project, please contact me directly. The development of the Four Seasons in the iconic Naples Beach Club location is a project that will take a number of years but will bring great value to an already abundant area. 
We will keep you updated as they progress: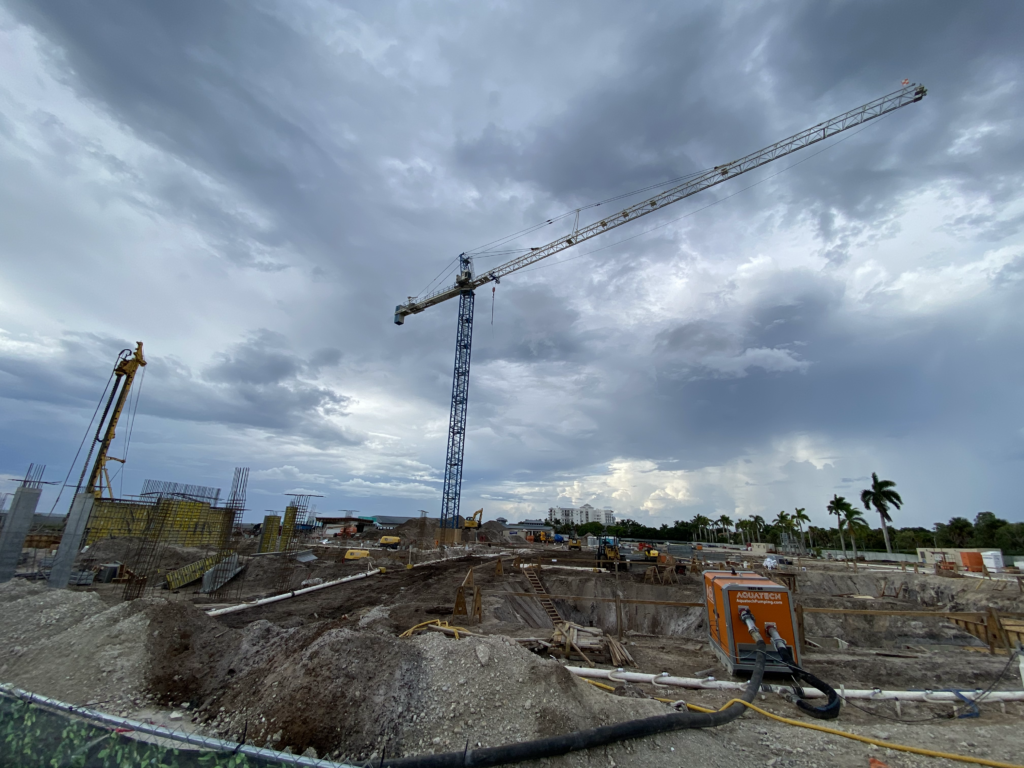 Coquina Sands is one of Naples's best-kept secrets.
Community Market Activity: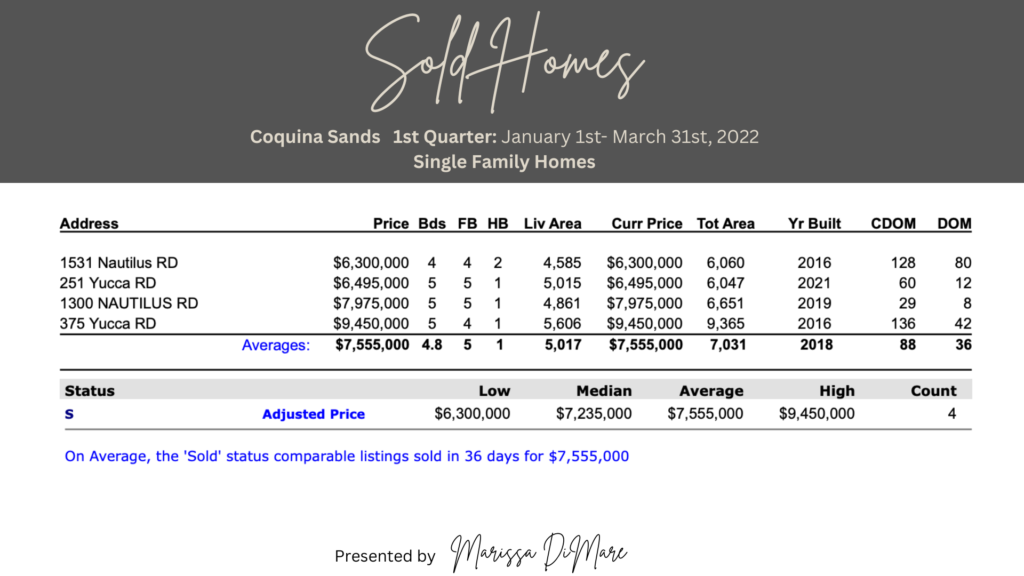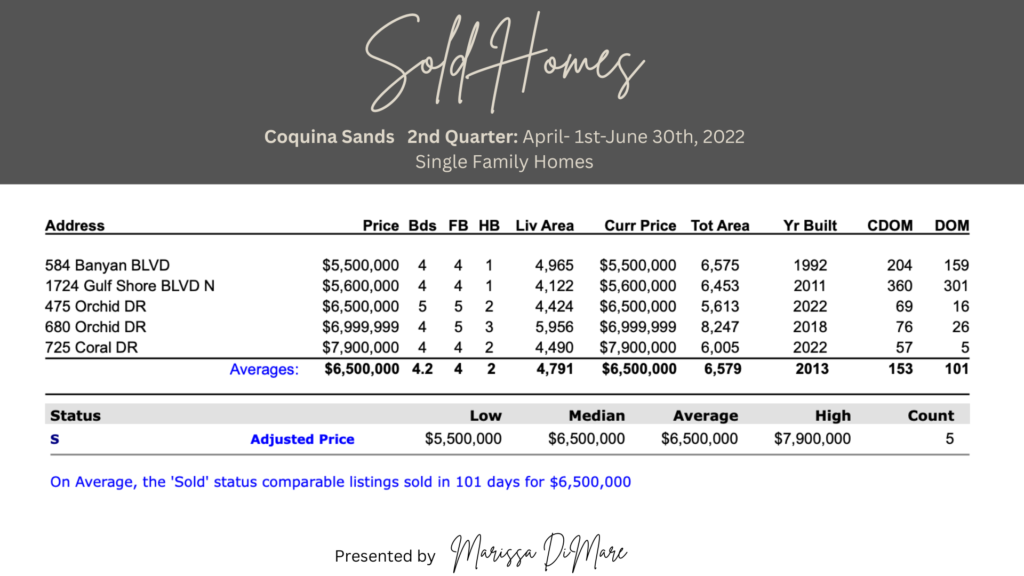 The source of the property information is from the Southwest Florida Multiple Listing Service. This information should be independently verified before any person enters into a transaction based upon it.
If you would like to know more about the community, please contact me anytime.
I am honored to share my passions on this blog, if you would like to stay in touch, please subscribe to my monthly newsletter.
I also put out a magazine every other month called Start Healthy. If you would like a complimentary copy, please send me a private message. Start Healthy is a comprehensive guide to a healthier, happier life. This 48-page publication features articles on wholesome recipes, insight on fitness trends, adventurous travel ideas, mental wellness, and targeted facts in oral, heart, and brain health. Engaging articles and invaluable lifestyle advice makes Start Healthy magazine beloved by health and wellness enthusiasts, and those wanting to know more.
Thank you for taking the time to read this article and I look forward to staying in touch!